There is a time when people would like to pray through the Holy Spirit.
If the Holy Spirit gave us the heart, this means that when we get down
on our knees, the Holy Spirit lets us know what the Holy Spirit wants
us to pray for. This also shows the will of the Holy Spirit who will answer
as the Holy Spirit has us pray.

We can often see those who ignore the Holy Spirit, saying they will pray later
because they are tired and hard. There are so many things moved by the Holy
Spirit within us, but unless you take immediate action, the Holy Spirit ends up
disappearing.

We never stop praying for the sake of restoring the fullness of the Holy Spirit
every day, repenting of what we did, not living by the Holy Spirit. Spiritual people
are pleased through prayer when the Holy Spirit is pleased, and they are sad
together when the Holy Spirit is sad. When we pray, our thoughts and hearts
are one with the will of the Holy Spirit.

However, people who are not spiritual dislike praying, they are satisfied with
just a religious life habitually. These people think that they used to pray a lot.
Yet, praying is endless. A prayer is a struggle to gain the power and strength
to live a spiritual life from God because they cannot pray for themselves,
maintain a religious life, and solve physical pleasure and righteousness.

Unless we pray, we cannot defeat the evil ones threatening our spiritual lives.
As our physical pleasures gets stronger, our spiritual lives become destroyed
and devastated. Saints, let's pray. Without prayer, we cannot do anything.
We also cannot be touched and inspired by the Holy Spirit. Though we are
touched and inspired by the Holy Spirit, we cannot have the power to obey.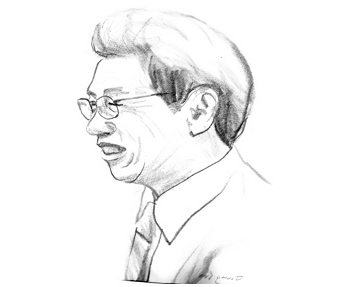 Pastor Seok-Jeon Yoon
Extracted from Yonsei Newspaper #369 (2013-01-11)

"