The promise of God's word has a great thing. When Jesus was led by the Holy Spirit into the desert to be tempted by the devil, He choose to live on the word of God by abandoning bread that fill his stomach although he was hungry after fasting for forty days and forty nights (Matthew 4:1-4). You must be able to throw away worldly things that you cherish when God says. You don't need to doubt if God's word could be fulfilled. It's because God's word surely is fulfilled.
Only those who thirst for righteousness can win the glory of the kingdom of God which is better than glory of the earth. You will be in trouble when you stop believing in Jesus since you are upset and feel bad after being tempted by worldly things. It's like giving up an eternal and great blessing. If anyone gives even a cup of cold water to one of the little ones on earth, it is a small thing. However, if you give a cup of water in the name of Jesus, you will get an eternal reward in heaven. The body that is sown is perishable, it is raised imperishable. Only those who believe in Jesus are allowed to get such a great blessing.
Those who long for eternal glory feel sorry for not preaching the gospel to their neighbors saying "Believe in Jesus" They are thinking about why they didn't preach the gospel to them. I bless you to evangelize opening your mouth so that people believe in Jesus. You have to fill yourself with everlasting things and be satisfied.
Nothing on earth can be a source of blessing. Worldly things fade away some day no matter how great they are. But God who is the fount of every blessing is here from everlasting to everlasting. Living in the eternal God is an eternal blessing. You need to do your best to live in God and long for the blessing that God provides. We are trying to get the blessing and we have already gotten it.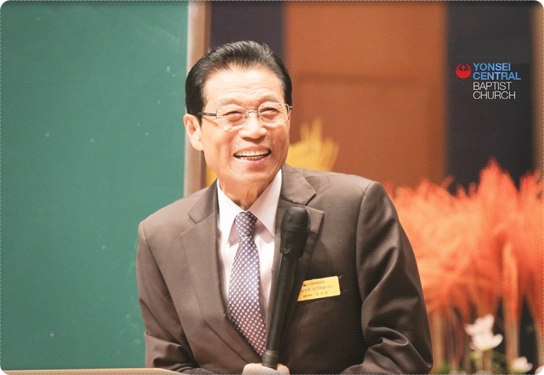 Pastor Seok-Jeon Yoon
Extracted from Yonsei Newspaper #654