Gungdong Church
Almost two years after moving to Noryangjin, an additional 11,000 sq ft was added to the building to provide more space for small group meetings for the young adults and middle- and high school students.
As the church was revived day by day, the number of services increased, but still the space wasn't enough to meet the needs of the entire congregation, so the church needed a larger premises again.
Therefore a building committee was established on 10 March 1999 to purchase a plot of land to build a larger church.
The committee consisted of twelve members who thoroughly performed suitability assessments and feasibility studies on more than eighty possible sites for over two years.
By the answer of God, a property of 9.8 acres was purchased in Gungdong, Seoul, on 30 May 30 2001.
Pastor Yoon asked all church members to pray for the construction of the new church building.
All relevant legal procedures prior to the construction were completed along with the construction application, its traffic impact assessment and architectural review, which were done by the urban planning department of the city, and the construction permit was finally issued.
As appreciation for obtaining the permit, Yonsei Church offered a special service to the Lord to give thanks on 6 April 2003, and another service on 17 July 2003 to give thanks for the ground breaking, with the construction starting on 1 August 2003.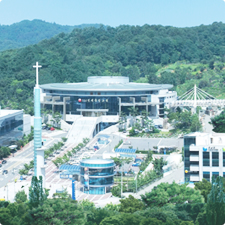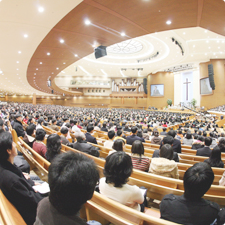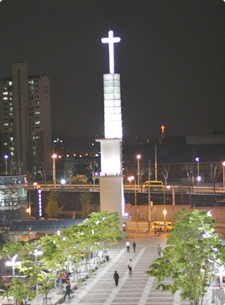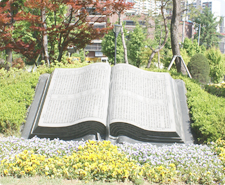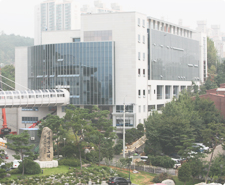 Yonsei Church proceeded to have special thanksgiving services once a month for two years from November 2003 for the construction.
There was no favoritism showed in the selection of a construction company.
It was chosen by open bids and transparency, and fairness in decision-making were kept.
Even though the church did not allow construction to take place on Sundays, as it is written in the Bible not to work on the Lord's Day, the overall period of construction was shortened to 21 months.
The new church building was being built by the prayers of the church members who started special prayer meetings for the construction every night from 10 August 2003.
Right before the completion of the new building and entering into it, all church members fasted and prayed for 3 days.
Many churches have faced great difficulties in constructing new church buildings, but the intercessory prayers of the Yonsei congregation prevented all those difficulties and have drawn God's help to overcome them.
Yonsei Central Baptist Church finally completed the construction and held the dedication service for the new church building on 5 May 2005, which was coincidentally the church's 19th anniversary.
The new church building covers 427,000 sq ft. The Administration Center, which was already built before the church moved and was used as offices, covers 82,000 sq ft.
The main church building, a circular five-story building with a diameter of 100m, is an ultra-modern building which was built considering functionality and economic feasibility.
Special construction technology, called 'top-down construction' was applied to remove all central pillars and allow a large open space inside the new sanctuary.
In addition, the new sanctuary features a digital network system which enables live broadcasting for both internet and satellite services, eight interpretation rooms, cinema acoustics, small rooms for more diverse cultural activities and six theme chapel rooms.
The new building was designed to have less maintenance expenses and more space. An IBS and a disaster prevention system were also established.
The new sanctuary also features ground level and underground parking lots with a capacity of up to 1000 vehicles, which was a new record in church construction history in South Korea.
Built in December 2006, the 53,400 sq ft Education Center is serving the community with a church kindergarten, an academy and a language institute. It is used for Christian education and for mission purposes in the church.
The World Vision Center was built in September 2010.
Its 214,000 sq ft features seven floors and a basement, with parking spaces for up to 300 vehicles.
From the 4th to the 7th floors, there is a large banquet room for church events, fellowship rooms, and a chapel for larger services such as weddings.
It also features small rooms for church groups, additional offices and multi-purpose spaces.