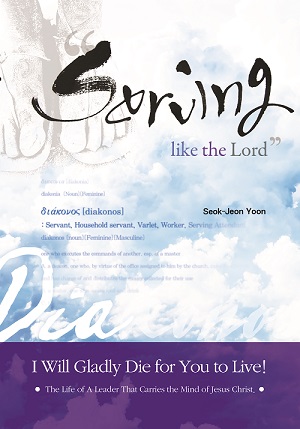 Serving like the Lord

A Must-Read for Leaders Working in the Church!
I Will Gladly Die for You to Live!
The Life of A Leader That Carries the Mind of Jesus Christ.
"For even the Son of Man did not come to be served, but to serve, and to give his life as a ransom for many."(Mark 10:45)

Leadership is a 'skill' that carries out the Will of the Lord.
Leadership is not stature. Being an elder, a deacon, a deaconess is not prestige, but rather a skill that shows you are working for God to fully reveal His glory. If you're just holding on to that position and not carrying out the work, you do not know what skillful leadership entails. We must all realize that after believing in Christ and receiving salvation, the very next will of God is for us to strive towards being His skillful leaders. 
Nothing can yield to this glorious calling of leadership!
Nothing on earth can compare to this blessing of serving others. Christ's only desire was to save souls a desperate desire that took Him to His death. God does not appoint anyone as a church leader. So it's His request to you to do the Lord's job well. In fact, this is His command to you. Just as Jesus served us to His death for our salvation, as leaders, this is how He wants us to serve others.
CONTENTS
Preface | Expecting Leaders to Serve as Christ Did ? 4
part 1. Obtain a Beautiful Position 
1. The Secret of Leadership 15
2. Loyalty and Obedience 33
3. Diakonos 57
part 2. Choose the Right PersonⅠ
1. A Person with an Assured Character of Faith  83
2. A Person with Clean Conscience and the Secret of Faith 106
3. A Person Overflowing with the Spirit and Wisdom 119 


part 3. Choose the Right Person Ⅱ
1. A Meek and Humble Person 140
2. A Person Obedient to the Lord's Authority 156
3. A Person Overflowing with God's Command  188

Part. 4 Serving Like the Lord
1. Serve Your Neighbor as Yourself 216
2. Serve in Partnership with Christ 234
3. Win through Customized Management 247
4. Serve with a Parent's Heart 267